RENTÖ | Rental Outdoor LED Display
In any outdoor setting, the rental outdoor LED digital signage solutions deliver excellent viewing experience to the audience with its high definition picture quality. It has a unique design including a lightweight and slim cabinet that enables speedy installation and complete cabinet connection or disassembly by just one individual, which allows substantial savings in time and labour costs.
This rental LED display has perfect splicing without any gaps and it is crafted with high-precision die-cast material. Finally, flexible choice of display location is a major advantage that the rental digital LED signage screens offers to users.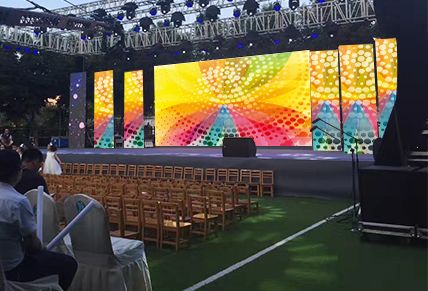 Lightweight Cabinet : The slim and lightweight frame structure of RentÖ makes it perfect for quick rental applications in both indoor and outdoor environments.
Humanized Design : Compared with traditional cabinets, RentÖ is designed for convenience and human-handling. Its antiskid handles and perfect structural design is both effective and efficient.
Single-Person Handling : RentÖ's fast-locking mechanisms and snap-in design mean that even a single person can set-up and take down the installation easily and conveniently.
Easy Maintenance : The power box, receiving card and HUB card are integrated into a modular design to enable fast module service, saving on time and labor costs.
Anti-Collison Mechanism : RentÖ's cabinet has a sloping bottom, which means in case of bottom-first collision, the LED lamps will be protected. The chassis also has a unique design to lend more stability to the product.
Specifications
Details
Pixel Pitch
2.5
3
3.9
4.8
LED Type
SMD2121
SMD2121
SMD2727
SMD2727
Module Resolution (WxH)
192 x 192dot
192 x 192dot
128 x 256dot
104 x 268dot
Module Dimensions
320 x 160
192 x 192
250 x 250
250 x 250
Module Weight (KG)
14kg
14kg
14kg
14kg
Cabinet Dimensions
480 x 480
576 x 576
500 x 1000 /500 x 500
500 x 1000
Brightness
1000
1000
1000
5500